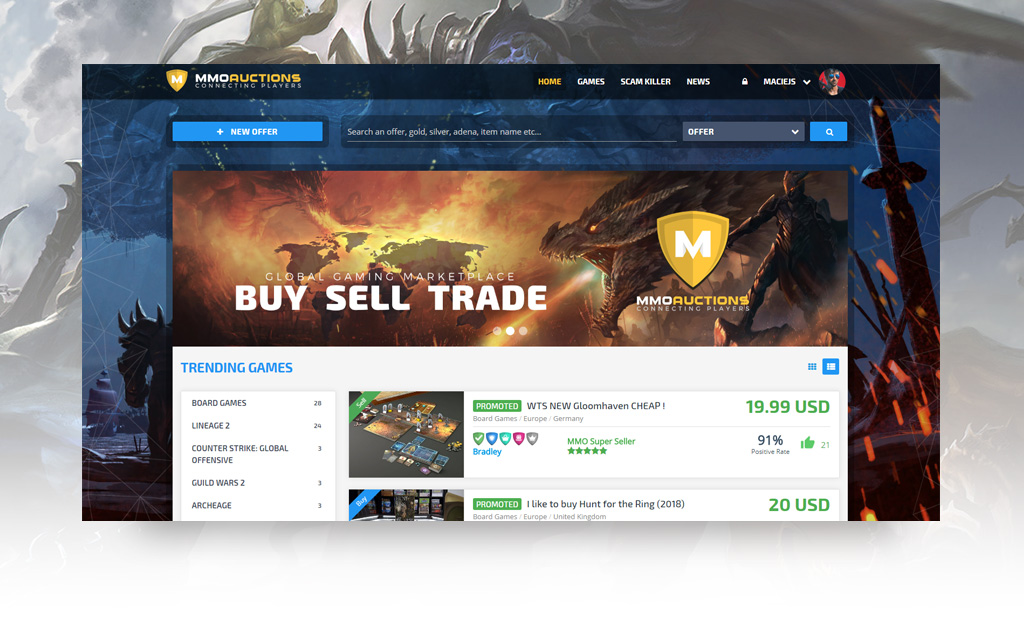 Welcome
Whether you're playing D&D, board games, MMO's or Online FPS - we are all gamers.
The idea behind this project is to create a safe haven for all kinds of players to communicate, trade and
exchange their virtual goods in a user-friendly multi-platform environment with it's own dedicated mobile app.
One of our main goals is to create the world's best online portal where players from all over the world can, in an intuitive and secure way, buy, sell and trade their virtual goods, game keys, action figures, board games and any other sort of gaming related accessories completely free of charge.
Search, Find and Buy
You are just a few clicks away from the thing you were always looking for.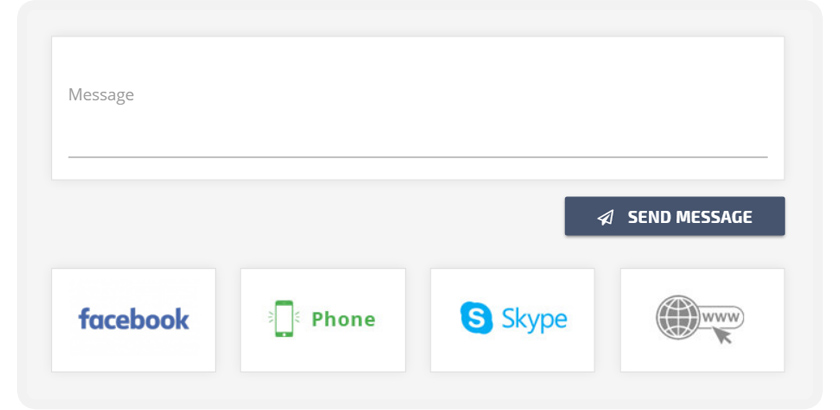 Create offers in 60 seconds
Few Clicks to add an offer. Pick Game, Server, Set price and you're good to go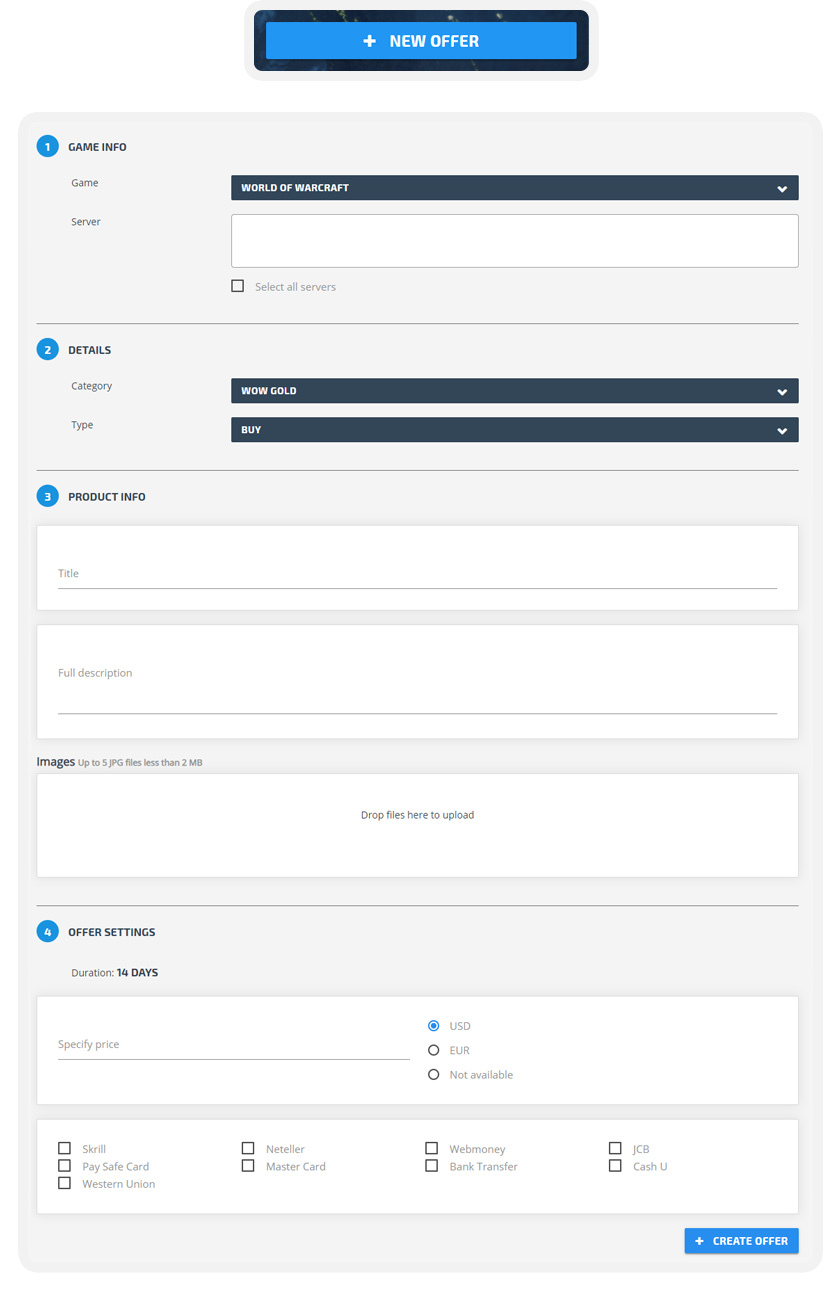 Gain reputation
Become a famous seller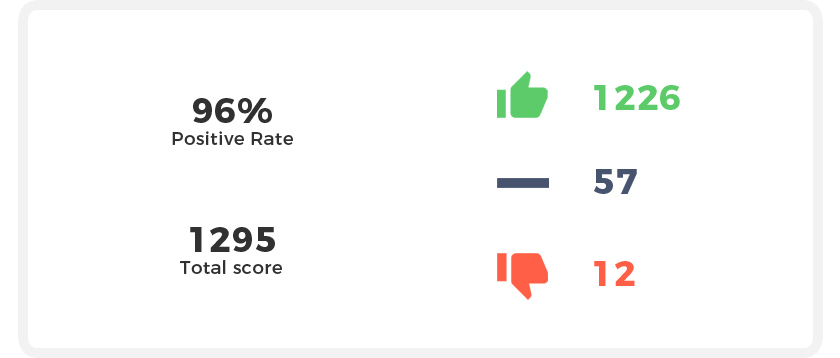 - Intuitive user interface, created to suit the player's needs
- Adding offers is designed to be as fast and painless as possible
- Up to date Game and Server Database
- User panel granting an intuitive and instant access to everything user might need to perform his trade and monitor his transactions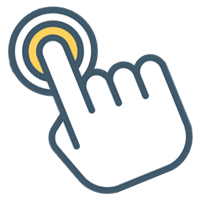 - Instant Offer Posting free of charge - put up an offer in as much as one minute
- Convenient search tool.
- Payment options linked with the portal.
- Ability to chat with other users through built-in chat.
- Text message and email notification system integrated into user panel.
- Mass offer management - relist, extend and end offers with one click.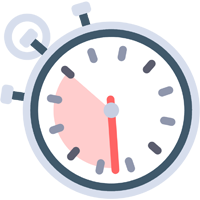 Aesthetics and ergonomics
- Simplified portal design based on auctioning and social networking solutions.
- User account personalization.
- User-friendly panel with offers and sales management tools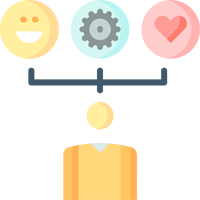 - Manage your account on any device that has a display and access to the internet.
- Mobile application for iOS and Android
- Multilanguage
- Multiple servers located around the world providing the fastest possible connection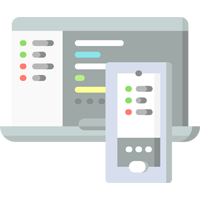 Security
To increase user security, MMOAuctions uses systems to identify, block, or force suspicious users to identify.
STEP 1
Account Creation and User Verification:
- Auto-block of multi-account users.
- Auto-block users that create an account from a suspicious IP (eg Tor / Proxy / VPN).
- Auto-block accounts created with a "10-minute fake e-mail" generators
STEP 2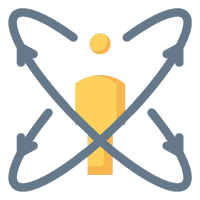 User actions scanned by built in algorithms:
- Logging in with proxy,
- Logging in with browsers like TOR, l2p, freenet etc.
- IP changes,
- Account sharing
- Multi-account
- Spam
- Suspicious, vulgar phrases of titles and descriptions in offers
STEP 3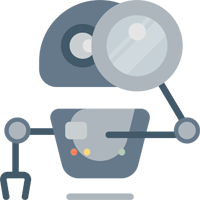 Bot reports and manual intervention of admins:
- Suspicious behavior logs are sent to the administration.
- Administrators, after analyzing the logs, perform actions to verify suspicious users and take action should the reported accounts prove to be malicious.
STEP 4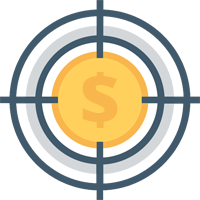 Scam Killer - In-house system that analyses suspicious emails, payment systems, IP addresses, Skype accounts, Facebook accounts, phone numbers. If the contact information of any user gets into the Scam Killer database, or its already there, after adding or attempting to verify, new user is blocked and the database is updated with new information (eg new mail or IP address from which the account was created).
STEP 5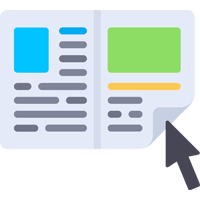 Terms of service violation reported by other users:
- Suspicious users can be reported with a ticket to the administrators.
Admins can ask for a verification for the suspicious account or simply block it.
STEP 6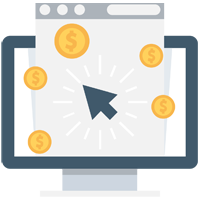 Payment methods and contact details verification.
- Payments are verified by MMOAuctions.com and automatically redirected to external gateways.
- Contact details are verified by MMOAuctions.com:
Skype verification by MMOAuctions gives you the confidence that no one will give you someone else's Skype ID or a non-existent one as a contact form.
Phone number verification with a SMS code.
Facebook profile is automatically confirmed by connecting it with MMOAuctions.
The user's website is checked manually by the MMOAuctions team.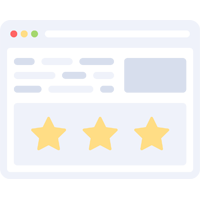 Well developed feedback system:
- The user feedback system is designed in such a way that it is not possible to add false reviews. 1 rating = 1 account, with the ability to add more comments.
- If you try to add a fake feedback logs of such activity will be sent to the site
administration.
- Vulgar and untrue, purposely hurtful comments may result in a permanent ban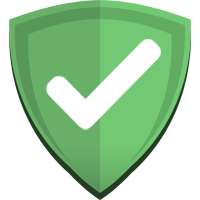 Badge System dependent on user's verification level:
- Progressive payment verification system, and external communication systems (Skype, email, Facebook).
- A simple system to evaluate seller / buyer reliability.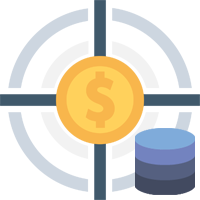 Scam Killer database:
- Every user has the opportunity to use the Scam Killer free of charge. It allows you to check if an email, Skype account or any other contact information belongs to any known scammer with just one click.
- Scam Killer is based on a, constantly updated, list of suspicious emails, IP addresses, Skype accounts, etc., created by people who specialize in analyzing and countering fraudsters.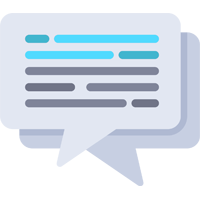 Built-in live message system:
Built-in messaging system that works like a live chat. It provides a secure form of contact between buyer and seller.
The message system is divided into sections:
- System notifications,
- Messages from other users
- Messages from MMOAuctions support,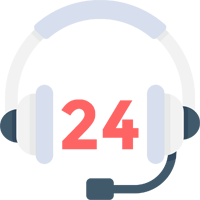 Optimized ticket system.
Intuitive, user-friendly system designed for quick reports of suspicious behavior on the portal.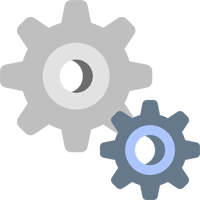 Administration panel:
Intuitive, user-friendly system designed for quick reports of suspicious behavior on the portal.
- Smart Vendor - Tool that allows you to follow a specific category or seller to help you monitor the market - if a new offer is added to a selected section or user, a person that is using Smart Vendor will receive an email with a link to the newly created offer. This gives sellers full control of the market without wasting hours searching for information and offers that they are interested in.
- Middleman System - Built-in three-way chat that allows to have a conversation between buyer, middleman and seller.
- No one is obliged to use the middleman service - this is the advantage of our portal - unlike the competition we do not charge high fees for middleman service.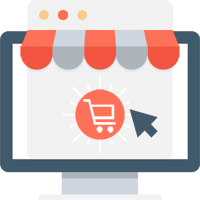 - This section of our website is dedicated to informing players about the latest MMO game news, and is a great SEO tool for the entire MMOAuctions portal (Organic SEO).
- Possibility to comment, tweet and share post on social media, etc..
- A place where players will be able to discuss about news from MMO world.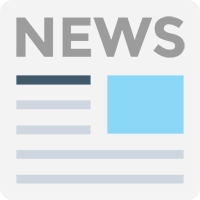 Log in with social media account.
The entire portal is linked with Facebook, Twitter, Google+ and Youtube.
This allows you to share offers, MMO News, or key offers on your social media websites. This is an additional option for us to promote the portal.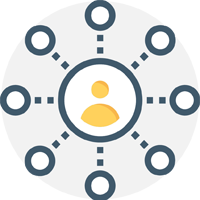 Text-based FAQs and short videoblogs.
In addition to the standard FAQ form, we have created a video blog FAQ so the users can see how the various sections of the MMOAuctions portal can be used. This allows for a comprehensive explanation of how the portal works, which
would not be possible with a simple text format.